About Meredith
Hi,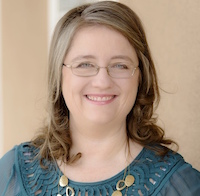 my name is Meredith Eisenberg and I am a Marketing Nerd (and Tech Goddess).  I've been helping business owners market their businesses online for over 10 years.  I live in Albuquerque, New Mexico with my daughter, husband, a big black lab-ish mutt and a little spotted chihuahua-ish mutt.
I am also co-founder of the Time Traders Club – a collaborative time bank that allows you to get the help you need in your business at no cost – while building up your referral network. Time Traders Club was born out of a podcast that my business partner, Jasper Blake and I did where we interviewed 100 successful entrepreneurs.  We chronicled some of those lessons in our book, The Escape Plan.
I also love helping people with email and marketing automation. I'm an Active Campaign certified consultant. (I also know a thing or two about Infusionsoft). I also offer as needed on-demand coaching on an annual basis – check that out here.
In my (spare?) time, I also work as Marketing Director for a Fortune 500 marketing agency that specializes in LinkedIn.
There is nothing I love more than getting someone's ducks in a row online.  Through smart strategy and marketing automation,  business owners can spend more time doing what they love (working with clients) and less time doing what the dread (marketing, worrying about getting more people into their funnel).
Sound good?
If you are on this page, you are probably looking for help marketing your business.  Yay!  You are in the right place 🙂
You Might Like This Stuff!
Here are some goodies for you 🙂
Spending too much time on marketing? Check out my Market Your Business in 30 Minutes A Day video course.
Feeling a bit overwhelmed with ALL the things you need, but can't afford a team just yet?  Check out Time Traders Club.
Want someone to look over your current blog/offer/squeeze page?  Sign up for a free marketing audit. (Yes, the page SAYS Active Campaign – but I'll look at your page even if you use something else)
Are You In Albuquerque?
Awesome.  I would love to meet up with you and learn more about your business.  Click here to check my schedule. You should also check out the Time Traders Club Albuquerque Meet Up group.  (We have a a lot of fun!).
Enjoy!